A Hypocrite I Am
One evening this past week I neglected my caregiver duties. I forgot to give Cindy her pills and brush her teeth. I remembered the pills after Cindy was in bed; I administered them by propping her up. This only underscores the fact that I never remembered the teeth until the next day. My neglect was due to Facebook induced preoccupation.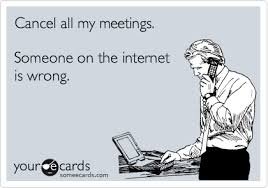 My preoccupation centered around an academic argument. My position that such attributes as love, freedom and peace are a society's salvation, not the knowledge base, was highly ironic given I neglected my own loving care for the sake of mulling over an academic argument. I know what tempts me to do this, I once spent four years methodically researching how our social systems and misinformation work (one whole year on economics, the second on politics, etc.), but precisely because of that I should know better.
Add a touch of hypocrisy to the irony in that I've posted in the past about turning anger into kindness. We should immunize ourselves to both the emotions and the faulty information posted by staunch advocates of any particular interest group or ideology, yet I find myself still getting sucked into some of these posts myself. Since I'm staunchly against staunchness I tend to remain more logical than emotional, but I am still a hypocrite.
I am broadcasting I have been a hypocrite so you will hold me accountable. You don't have to say a thing. Just making this confession will help me practice what I preached in the past. This is similar to one of my motivations for posting about our final journey together. Because of my upbringing and where I live I would like to think I would be a devoted caregiver for Cindy regardless, but broadcasting my caregiver experiences holds me accountable.
So this is it. I'll respond to the type of Facebook posts that were more prevalent when I first joined, the type of posts that keep us informed on each other's lives. Maybe I'll respond to people's thoughtful interpretation of current events based on their own experiences. As for the reposted articles or "news" feeds? I'm swearing them off … at least until I'm no longer a caregiver.
Of course, if I truly practice what I preach, then after I'm done as a caregiver I instead should be preoccupied with promoting love, freedom and peace through my experiences (which includes writing about them) over concerning myself with the articles and news feeds of special interests and ideologies. I will continue to need and appreciate your support with that.