Our trips down the stairs best reveals Cindy's physical decline over time. She has gone through several stages. First her balance went, then her muscle strength. More recently her legs do not function to bend or straighten when they should. Cindy leans down on me, arms clasping my head to her chest, as I stand on the steps below her, forcibly moving her legs to where they need to go. This now makes our excursions down the stairs interesting for me and scary for Cindy.
Cindy did not use to be faint hearted. I recall the first striking moment when this changed. We were on a tram ride between Palm Springs and the tableland near the top of Mt. San Jacinto. What is there to be scared about on a tram ride for a woman who once balanced herself on a couple of wires over a raging river crossing? Yet she clung to me for dear life as the tram went up and down the mountain.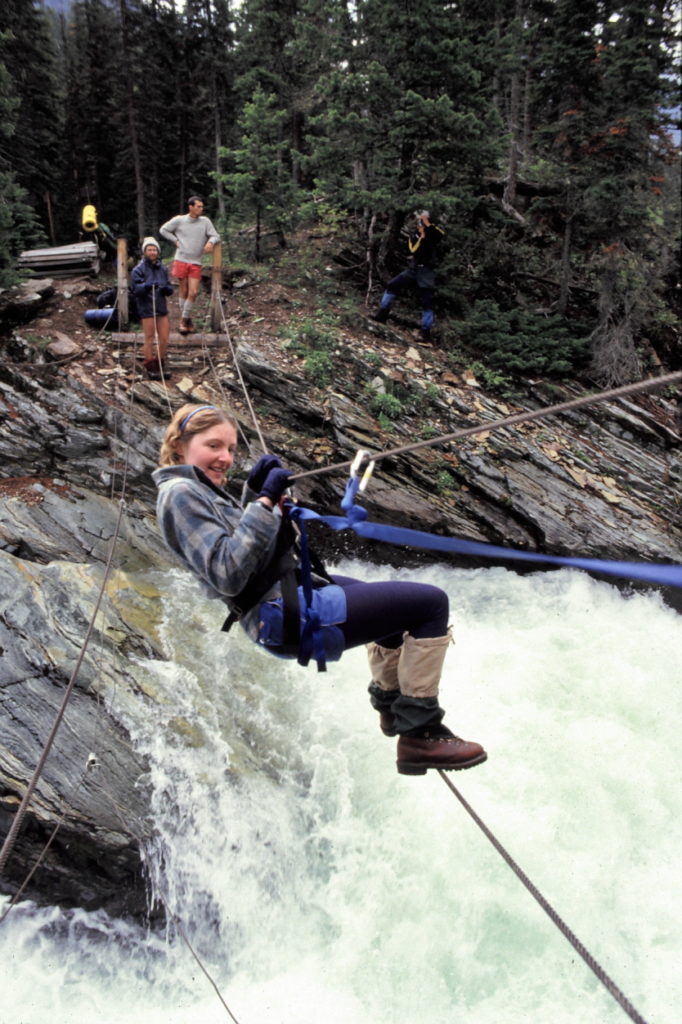 This may seem an odd intro for words of thanks, but consider our situation over the past  year. One year ago was around the time Cindy could no longer walk on her own. I originally thought she would pass away soon after that point, similar to my Mom. For all Cindy's extra time on earth I am thankful. Had she been in even the most loving of nursing homes she would have been confined to a wheelchair over this past year; for being able to keep her in the most familiar and loving environment possible over this past year I also am thankful.
Last year around this time our financial situation was critical. Our monthly debts exceeded the income from SSDI. The most obvious solution, refinancing the home, eluded me because of a Catch-22. Refinancing the home so our income exceeded debts required our income already exceeding debts. Thankfully, this is small town America. The local bank manager, who lives two houses up on our street, brought our case to the bank board for a special exemption, in the spirit of It's a Wonderful Life.
Speaking about the generosity of small town America, anonymous donors this past year contributed to making our financial situation much easier. Our coverage with companions has increased dramatically as well. Their comments about enjoying time with Cindy make it seem like we actually are doing them a favor.
I am thankful for recently discovering the research linking spirochetes to Alzheimer's, as reported in the last two posts, and treating this with antibiotics. I do not believe this will be a cure for Cindy's dementia. Alzheimer's is a fancy term for "dementia instigated by amyloid plaques/tau tangles." That means amyloid plaques, dementia, oxidative stress, compromised immune system and spirochetes are all linked somehow in the particular dementia called Alzheimer's. The spirochetes could be a cause, indirect cause, effect or spurious effect in this equation. More research is needed.
In the meantime the treatment with antibiotics has provided at least one benefit. I wondered if I was imagining things, seeing what I wanted to see, when Cindy appeared to be more alert. Now I have something more concrete and measurable to go by. Before treatment with antibiotics Cindy was feverish at least once a week; she has not been feverish at all over the first month of treatment.
This may mean relief to Cindy's immune system, but her physical decline continues. This is why I do not believe we have stumbled on a cure. I do know that one year after I was sure Cindy's time was at hand there now is nothing to be sure about. I am thankful for finally accepting and handling this uncertainty. I believe wholeheartedly in living for the present, I really do, but my nature is to analyze and plan for contingencies. My emotional maturing has required the full year since last Thanksgiving.
When we reach the bottom of the stairs Cindy clings to me even tighter than usual. I know the extra tightness results from Cindy's fear of the stairs, but I know as well she still is conveying her love. Cindy has been reduced to her essence at this point in her life. As I hug her back I realize one thing more for which I am thankful.
If I were to sum up Cindy's essence with one phrase it would be her gladness of heart. When we eat at the pub and she hears people laughing at a nearby table she laughs right along as if she knew who they were and what their mirth was all about. Cindy strives for joy even now; in her striving she makes joy contagious. As I tell her quite often these days, I am so thankful we have each other.