Saturday was one of those gems that pop up unexpected. As often happens I came across something early in the day that set the table for what was to follow. On Facebook a friend lamented about how we have strayed from the charge by Jesus to love each other. I completely understand how Facebook itself would lead one to that conclusion, but I commented that from our walk across the country we witnessed kindness everywhere from all types of people.
We continue to be the beneficiaries of kindness, particularly from townsfolk who come to visit us. What drew my focus this day was how we have been rule breakers, benefiting from the spirit rather than the letter of the law. During the course of the day I pedaled on the wrong side of the road for a short stretch, pedaled on the sidewalk for another short stretch and parked the pedicab where there was no parking. I also went into a woman's bathroom with Cindy. We once more treated the local pub like a drive-in restaurant, their only customers to do so I'm sure.
In each case I no admonishments came from townsfolk, quite the opposite. In our small Connecticut town people know the story. Everybody goes to great lengths to welcome and accommodate us; empathy at work in contradiction to impressions created through "news" articles shared indiscriminately.
The highlight of the day was our visit to the antique car show. We dropped by with the pedicab only to see what was going on. Before we were done we had given around ten kids and five adults rides around the car displays. No one protested that giving pedicab rides to people was not one of the planned activities.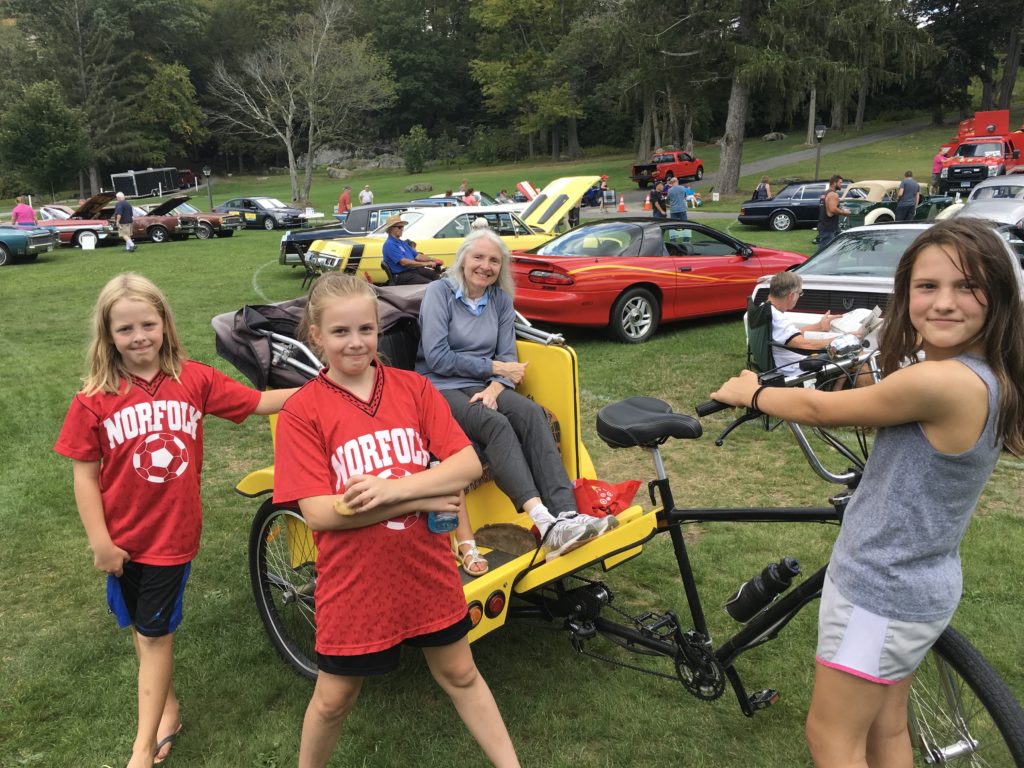 When we allow our hearts to responsibly follow the "spirit of the law" we are more loving than when our beliefs create allegiances to the "letter of the law."