I had a rare evening out last week; "out" means outside on our porch, where I worked on a project board. Projects are one of my wellness strategies. I find them to be a useful distraction from both my personal circumstances and the news.
When I first suffered stress headaches I became serious about my diet, not an easy thing to do for a long distance hiker who considers himself a quantitarian*. The strategy worked for awhile. When the headaches resurfaced a few months later I increased my exercise regimen to a level few people my age maintain.
I still experienced stress headaches occasionally, but these isolated bouts were curable through playing guitar or meditation techniques. Now I find, because of personal and societal factors, I need something that is more of a continual meditative state. That is how projects help.
In our civilized society projects often are a source of stress, particularly when deadlines or chaos ensues. I'm immune to this, at least for now. I have no deadlines except for Cindy's bathroom schedule. As for chaos? That's what an "evening out" with the project board prevents.
In the middle of the board is the word "JOURNEYS," the driving force in my past life and future life to be. Indeed, I can trace everything I do as a caregiver in the present to the lessons learned from long distance journeys in the past. Around the center circle of my project board are connections to all the types of projects I've done in my life that are connected to journeys in some way.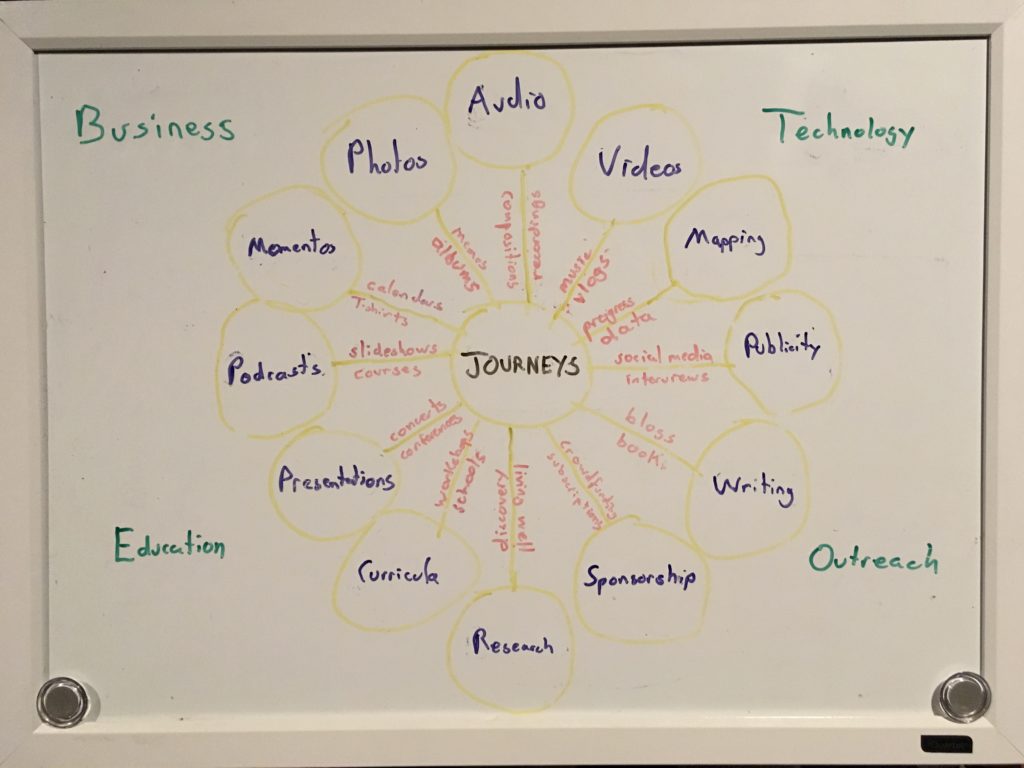 I'm amazed at all the connections I've made in the past; they now form a bucket list for the future. Admittedly, now I would need to forge partnerships to accomplish them all; I'm not as young as I used to be. Anyone interested? Business, education, technology and/or publicity experience would be helpful … plus an interest in long distance journeys. If not, I'll be fine; living well, not project completions, will be my ultimate guide.
For now the project that garners the most attention, aside from this blog, is a symphony I am working on called "American Discovery." This tells the story of our year long hike of the American Discovery Trail, setting to music the photos, interviews and sounds recorded during the journey. My "American Discovery" project serves many purposes. Practicing on guitar facilitates a meditative state for me while simultaneously entertaining Cindy. When Cindy passes away the symphony will honor her while raising funds and awareness about living well for brain health.
Other projects are difficult to pursue in Cindy's presence; I save them for when a companion visits. My writing projects other than the blog do not get beyond notes, outlines and an introductory chapter. I am like revved engine in that regard. The project that receives the least attention now will get the most attention when it matters, the actual logistics of a long distance journey. I hope there will be many.
None of my projects threaten my current purpose in life, helping both loved one and myself live well with Alzheimer's. Yet they give added purpose to fuel my existence, maintain my equilibrium and make each day something to embrace. They also help to keep the headaches at bay.
*Quantitarian = one whose diet consists of large quantities of anything and everything. Most long distance hikers become quantitarians after a few days of hiking.